Features:
Material measuring by manual.
It's convenient to input prize, lottery and uneasy measuring material or multi-type packing products.
A complete set of equipment is economical and practical.
Packing machine combined parts: 
DC or BDP series main machine
Manual feeding conveyor
Product conveyor
Applications:
Suitable for packing  packing fragile material:chips, shrimp slices, crispy rice and uneasy measuring material: candy, jelly, bean sprouts, tea leaves, dumpling, the pouch bag into big bag of drugs, commodity, daily use, food etc
Our advandages
We have rich experice in produce this series of vertical packing machine, using real material for the machine.
We paying attention to the product quality, customer's needs, sincerely serve to every customer.
One year warrantee after we sold out the machine and provide lifelong service.
As per customer's real product condition to recommend fit and executable packing solution.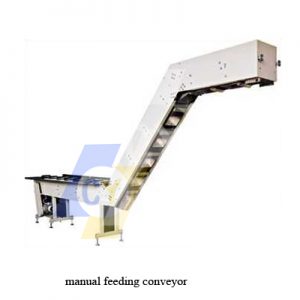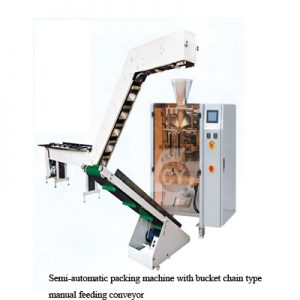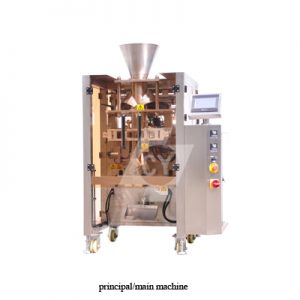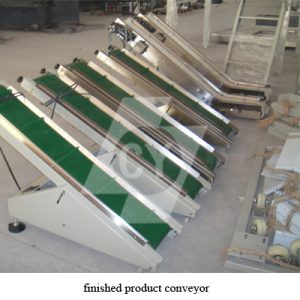 Product Information:
| | | | | |
| --- | --- | --- | --- | --- |
| Technical Characteristics | Technical Parameter | Technical Parameter | Technical Parameter | Technical Parameter |
| Type | DC-4230C | DC-5235C | DC-6845C | DC-9060C |
| Film width | 140-420mm | 180-520mm | 220-680mm | 560-900mm |
| Bag length | 80-300mm | 80-350mm | 100-450mm | 100-600mm |
| Bag width | 60-200mm | 80-250mm | 100-330mm | 260-430mm |
| Film roll diameter | 400mm | 400mm | 400mm | 400mm |
| Packaging speed | 5-60bag/min | 5-50bag/min | 5-40bag/min | 5-20bag/min |
| Power | 220V    50Hz 2.2KW | 220V    50Hz 3KW | 220V    50Hz 3.6KW | 220V    50Hz 4.5KW |
| Machine size | (L)1315x(W)1023x(H)1343mm | L)1502x(W)1070x(H)1470mm | L)1702x(W)1340x(H)1709mm | L)2008x(W)1684x(H)2643mm |
| Machine weight | 500KG | 600KG | 900kg | 1200kg |
| Range of measurement | 150-1000ml | 150-1800ml | 150-2500ml | 1000-5000ml |
| Film thickness | 0.04-0.12mm | 0.04-0.12mm | 0.04-0.12mm | 0.04-0.12mm |
Packing Samples